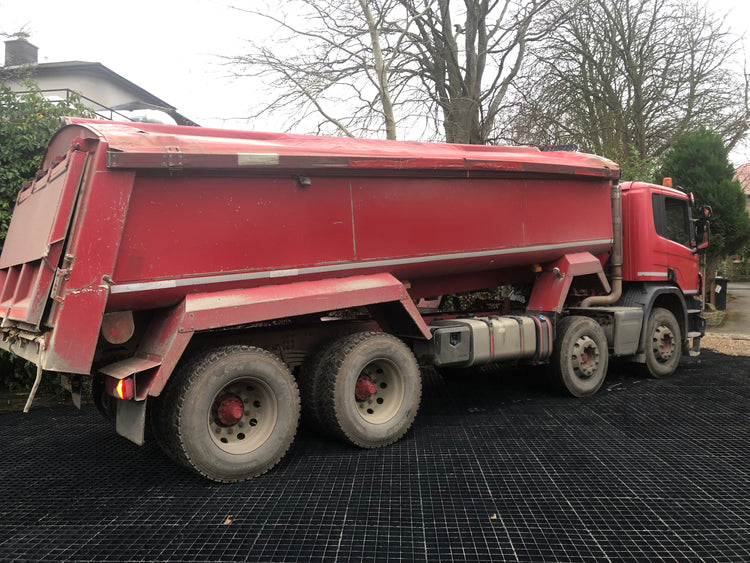 Parking Grids

Reinforce your driveway, patio or car park using IBRAN-X grass/gravel grids.
Kerb Appeal

Our driveway drainage channels help remove surface water from your driveway.
We are Europe's first truly sustainable manufacturer of gravel/grass grids and eco drains.
Locking in waste plastic for good.
Why buying IBRAN is a proven sound investment.
Tangible value for your project
Sustainability
Our manufacturing blueprint allows us to manufacture products sustainably, sourcing recycled materials and eco-powering our low-energy factory.

Inspired by nature

IBRAN is a supplier and UK manufacturer of recycled plastic garden, landscaping and construction products and supplies. We use only quality, sustainable materials and power our low-energy Leicestershire factory with green energy, giving you well-made, commercial quality products for your project.
Superior quality
Well made product at a sensible price. Prompt delivery.

Only used a small quantity as we were extending an existing driveway but wished we had seen these sooner as they are superior to the ones we used originally.
Quick and easy ordering.
Delivery was as stated on website. We were kept up to date on progress of delivery and item arrived on time.
Excellent quality product packaged sensibly.
What a fantastic company!
The customer service is the best I've ever had.
A real person on the end of a WhatsApp number, giving advice and sorting out delivery problems.
I would 100% recommend this company!
The grids themselves are well made and very strong.
Very easy to to fit too and make a really big difference to the project area.
Outstanding
This company has restored my faith in human nature, nobody could possibly ask for better service, product brilliant does exactly what it says on the tin. I will have no problem recommending this GREAT product and company.
THANK YOU ALL AT IBRAN.
Recycled materials
Very helpful on phone when I made an inquiry. Ordered and delivered within 2 days. Product is well made, very strong and easy to put together. Also good to know it's recycled materials.
Already suggested to nephew who is going to use as a base under his daughters wooden house in their garden.
Great product, even better service
Relatively small car parking area that needed gravel grids to stabilise the parking area and prevent the chippings from moving around. Ordered nearly 300 m² of grids, which turned up next day on a pallet. The customer service when ordering was outstanding to say the least.
Would not hesitate to recommend this for any project. I will cant wait to use this company again.
Sustainable materials, low energy factory.
Green Manufacturing
From sourcing the highest grade recycled plastic raw material, right through to rigorous quality control processes in the factory, our best selling and meticulously engineered products are made to the highest standards right here in the Midlands.
Using IBRAN products is an investment you can be confident in. We truly raised the bar on service and quality but the clear and outright thing that sets us apart is our open-book nature.
Your project needs predictable quality, punctuality and precise information you can count on, whether you're building a new shed base or constructing a new commercial car park. We hate nasty and costly surprises.
And as for the grids and drainage solutions themselves, these tough-wearing, sustainable plastic drain channels and plastic grids for parking surfaces and shed bases are made to endure anything you can throw at or put on them.
What we've been talking about recently
News and Updates